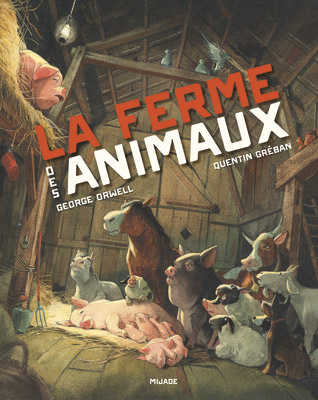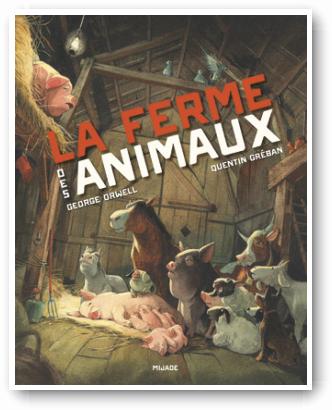 ---
At the farm' revolt is in the air. The pigs drive the farmer away and post new rules.
"Whatever goes upon two legs is an enemy. Whatever goes upon four legs' or has wings' is a friend. No animal shall wear clothes. No animal shall sleep in a bed. No animal shall drink alcohol. No animal shall kill any other animal. All animals are equal."
Time goes by. The young revolution turns away from its principles. The rain washes away the commandments. The cynical donkey can still decipher a few words but it seems some have been added.
"All animals are equal but some animals are more equal than others."

After Pinocchio' Peter Pan' and The Jungle Book' Quentin Gréban illustrates George Orwell's powerful text with passionate energy and talent.
Animals / Politics / Revolt / Power

In this fable where animals criticize the failings of humans and denounce the abuse of power' Orwell offers an eloquent satire on authoritarian and totalitarian regimes.
Animal Farm: A Fairy Story' a short novel by George Orwell' was published in 1945. Divided into ten chapters' it is an easy' accessible read.
The year 2020 marks the seventieth anniversary of George Orwell's death. With his works passing into the public domain in 2021' Animal Farm will once again be in the news.


---
---